Shortly after lockdown in Italy began, Italian apartment-dwellers started joining in co-ordinated singing from their balconies, including the song that had just won the Sanremo Music Festival and was still officially Italy's entry for the 2020 Eurovision Song Contest. When it became clear that that too would have to be cancelled, Eurovision fans rallied together on social media to bind their sense of community back together by watching past contents online.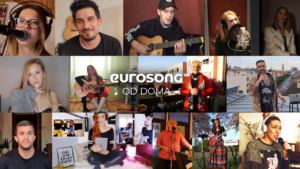 Both these 'affects' of lockdown presumed opposite relationships to space and gathering together than those on which Eurovision and other live televised events have relied for their emotional power. To illustrate that, consider how each contrasts with the seemingly unlikely note of sombreness and sincerity that Ermal Meta and Fabrizio Moro brought into the Eurovision grand final in 2018 when they performed that year's Italian entry 'Non mi avete fatto niente' ('You haven't done anything to me') –a song commemorating the hundreds of victims of the urban terrorism which had added undercurrents of fear to the everyday experience of city life for millions of people in the mid-2010s.
Alone on stage against a background of deep red spotlights and digital projections of their lyrics translated into fifteen languages, Meta and Moro named the sites of recent attacks in Cairo, Barcelona, Paris, London and Nice, with imagery more graphic than casual viewers would likely expect from a contest with so kitsch a reputation, and appeals to tolerance and religious reconciliation that tested the boundaries of Eurovision's rule against political messages.
Moro's intense gaze at the crowd, and the tightness of his fist clenched around his microphone stand, even seemed to make visible the unspoken knowledge that audiences, performers and fans had had to suppress since the Bataclan attacks and the Manchester Arena bombing in order to enjoy any live spectacle at all: it could have been any working musician, and any crowd.
Two years later, the song that would have been Italy's Eurovision entry, Diodato's 'Fai rumore', was instead being sung in unison by Italian city-dwellers from their balconies, joining in one of the only physical forms of community with a group larger than their own household that was open to them now that the severity of coronavirus in Italy had forced the country into Europe's earliest and arguably strictest lockdown.
In Meta's and Moro's song, as in the discourses of the many European leaders who had had to react to mass-casualty attacks in their countries and cities over the previous few years, terrorism appeared to be motivated by religious intolerance and a blow struck against what their words implied was a shared way of life (in a transnational community extending through Europe to Cairo, though marked specifically as victims of Islamist terrorism compared to the effect it might have had to name Oslo or Utøya as well): its targets were members of the public taking part in the city's everyday rituals of sociality and joy, in bars and shopping streets and concert crowds.
Against the geographic enormity of the globe, with 'galaxies of people dispersed in space', Meta and Moro sang, 'the most important thing is the space of an embrace'. This intimate, commonplace comfort is now, for up to half the world's population, against the law to share with anyone outside their household, and denied to those living alone at all – while the terrorist has all but vanished as a source of outdoor dread.
The everyday emotional and affective experiences of living through coronavirus lockdown are unprecedented for those who have been fortunate never to have lived under extended state curfew or a wartime siege, or to have had disabilities restricting them from taking part in public life outside the home; the context of a global, seemingly uncontrollable airborne pandemic is new even then. Together with the anxiety and, for growing numbers of us, the grief that the virus itself has brought, and with what it has meant for any of our working lives, our everyday affects and moods are governed by the politics and economics of our intimate space – the size and quality of our homes, who we live with and how, the gendered dynamics of power and even violence within households, and the structural factors that stratify access to private gardens and other amenities by race and class.
Even more so than in other emergencies, there can be no such thing as a collective experience of coronavirus when some have lived through it with those emotionally closest to them and others will have spent months without face-to-face conversation or touch.
National and transnational media, nevertheless, continue to be driven by a guiding logic of addressing – or inventing – a collective community, which (as Benedict Anderson first noted about the readership of national newspapers) was always too large by orders of magnitude for its members to have ever personally met. Even as multi-channel broadcasting, social media and streaming television have fragmented the mass audiences that television used to count on, media scholars have looked to live events and festivals as the sites where what Angharad Closs Stephens calls the 'affective atmospheres of nationalism' (and transnationalism) are most likely to be charged, in person, through the screen and on the keyboard or the phone.
But what happens to the ability of live music and sporting events to bring collective communities temporarily together and invite them to share the sentiments brought out by particular representations of national and transnational identity – the very thing that Eurovision researchers have long argued the contest is famous for – when they have depended on gathering crowds, presenters, participants and technical crew together in sizes that could be banned for months or even longer?
As sports teams and national governing bodies began to pull out of international fixtures even before governmental travel restrictions started making them impossible (one of the last fixtures involving an Italian team, Atalanta's Champions League match against Valencia in Milan on 19 February, has been blamed for coronavirus outbreaks in both Valencia and Atalanta's home city of Bergamo), Eurovision fans grew increasingly aware that the live contest in Rotterdam's 15,000-capacity Ahoy Arena would not be able to take place as scheduled in the middle of May.
During the early stages of lockdown, as celebrities posted stay-at-home appeals from inside their own houses and bands found ways to play together while physically separated (Dubioza Kolektiv, the Bosnian band 'sick of being European just on Eurosong', have been streaming their weekly 'Quarantine Show' from their homes in Bosnia-Herzegovina, Croatia and Slovenia), fans speculated whether Eurovision could still go ahead with remote presenters and the pre-contest videos for what was already a complete slate of songs. The European Broadcasting Union, in charge of Eurovision, announced the inevitable on 20 March, recognising that the size of the event made it too complex to postpone for later in the year.
While the annual Eurovision broadcast brings a temporary affective community into being through television and social media for the length of the contest, fandom (or the many fandoms that now criss-cross various online and offline spaces) sustains an affective community year-round – where keeping up with and sometimes travelling to national selections and pre-Eurovision events as well as the contest itself is an annual ritual, and fans forge friendships, relationships, work and study plans (my own PhD on Croatian popular music and national identity wouldn't have looked the same if the scandal of Severina's 2006 Croatian Eurovision entry hadn't happened in the middle of my research). Fandom's annual anchor being cancelled for the first time in its history, without even a scoreboard to argue about in years to come, was one more blow in a collapsing social reality.
The next day, journalist and Eurovision fan Rob Holley organised the first of what's become a weekly synchronised watchalong of a past contest, #EurovisionAgain, to help fill Saturday nights – because, 'why not come together every Saturday night and share the moment anyway'? First up was the Malmö contest in 2013, where most fans outside Sweden had first encountered now-legendary presenter Petra Mede; Athens 2006, Moscow 2009, Vienna 2015, Dublin 1997 and Helsinki 2007 have followed, with their own online voting countdown devised by Ellie Chalkley from fan site ESC Insight (for which I've written a few times), and the EBU even co-operating to stream new high-definition versions of the 2000s contests and help make older finals temporarily available online.
(Eurovision's social media channel has also been sharing #EurovisionHomeConcerts where recent contestants share versions of their own and each other's songs, and a special show on the original date of the grand final will celebrate this year's entries and 'link Europe through other familiar songs from the past, performed in iconic European locations' – to end with a joint performance of the UK's last Eurovision winner 'Love Shine A Light', to be seen on most participating broadcasters except the BBC, which will produce its own Eurovision celebration instead.)
After trying to detach from social media for the few Saturday nights of the lockdown, I joined in #EurovisionAgain for the Helsinki rewatch, livetweeting and making a short video explaining some of the background behind Marija Šerifović's historic win.
Even watching a contest for the first time brings complex layers of memory and imagination together into the meanings viewers make out of what's on stage – from memories of other contests and social experiences around those ritual times, to impressions of past or future travel to countries and cities involved, and narratives about international politics that we or the media project on to performances to affectively connect them with identities of ours (the way that Conchita Wurst's victory in 2014 immediately became bound up with narratives of 'Europe' as a tolerant, LGBTQ-friendly space contrasted against 'Russia', after the Russian Duma had passed the so-called 'gay propaganda' law in 2013).
Rewatching a contest adds temporal distance to those layers of emotional meaning, on both personal and collective levels. In 2007, I was entering the last year of my PhD, and starting to draft the articles on Eurovision and pop-folk music I published in 2008 without knowing what a snapshot of that particular moment in the cultural politics of European integration they'd become, or that I'd still be actively researching Eurovision as an academic thirteen years later as a result of them; Šerifović's win, for viewers with feminist or queer awareness and some knowledge of Serbian politics since then, may well call to mind the 'tactical Europeanisation' of the Serbian state's shift towards securing Pride marches in the 2010s and the appointment of Ana Brnabić as the region's first openly gay prime minister in 2017.
In the middle of a pandemic, the emotional experience of watching a past Eurovision might also contrast what each of us and our communities took for granted then with what it has become impossible to do now, with no certainty about when or how gathering in public will be safe again or crossing international borders will be allowed. Like the spectres that Meta's pleading hands and Moro's clenched fist brought into the undercurrent of his performance, these are affects that have to stay beneath our consciousness in order to feel the joy we probably turn to Eurovision for.
But it is the ways viewers have created affective experiences and rituals with each other around the annual rhythm of the contest, through digitally mediated communities, which have let those communities invent new rituals even when no live contest can take place at all.